Like most businesses and unlike most governmental agencies, the IRS is making an effort to become more efficient. Part of that push includes moving documents and services online. If you are unable to resolve your matter online and need to see a live person, the Taxpayer Assistance Center will now see you by appointment.
Here are the steps to schedule your appointment:
Go to the Taxpayer Assistance Center locator page here: https://apps.irs.gov/app/officeLocator/index.jsp
Type in your Zip code
Choose the radius in which you are willing to travel, eg. "10 miles"
Identify the the location nearest you
Click on the link in the resulting location that is nearest to you
Call the provided phone number to schedule your appointment
Be sure to have your Tax ID, Social Security and photo ID when you arrive
Here is a handful of useful links to some of the most requested items:
The IRS Interactive Tax Assistant is an excellent resource to get answers to commonly-asked questions.
Other self-service options easily found on IRS.gov include refunds, transcripts and tax payments.
Taxpayers who visit IRS offices to make routine tax payments should consider online payment alternatives. They can pay online, by phone or via a mobile device and get instant confirmation their payment has been sent.
If you were not diligent in filing and paying your taxes, will a visit to the Taxpayer Assistance Center be in your future? Maybe so! Don't forget to set your appointment!
*While we always strive for up-to-date, accurate articles this piece should not be considered tax advice and is provided for your information only. We recommend that you contact a qualified tax professional before doing anything regarding your taxes.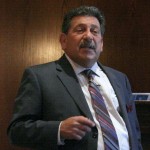 Peter Y. Stephan, executive director of the TaxResolutionInstitute.com, leads the nation's most respected Tax Resolution services firm.
Call 800-401-5926 for immediate assistance.