Tax Resolution in Our Current Economy
at LA West San Gabriel Valley/Pasadena DG:
Date: August 12, 2013
Event Start time: 12:30 PM End time: 1:30 PM
Location: Pasadena
Instructor(s):
Peter Y Stephan, CPA
Facility: Beckham Grill Restaurant
Get Directions
CPE Credits:
1.00 CPE: Continuing Professional Education Technical
Tax resolution is the practice of resolving one's tax issues, be they related to business or personal matters at the federal, state, and local levels. Handling tax resolution matters properly is a meticulous process that requires a systematic approach. Peter Stephan of the Tax Resolution Institute, renowned Tax Resolution Specialist, and author of the "Ultimate Tax Resolution Guide", will show us the proper steps in the handling of tax resolution cases and update us on the latest developments in offers in compromise.
Objectives:
Learn how to prepare a well-structured Letter of Engagement, Power of Attorney form, and retainer agreements.
Gain insight into effective techniques for handling an Offer in Compromise.
Understand the "Fresh Start Initiative of 2012".
Major Subjects:
IRS Form 9465
Form 9465FS
OIC forms 656
Trust fund recovery
Income tax recover
Payroll tax recovery
Streamlined installment agreement
Level of Difficulty:
Update
Field of Interest:
Taxes
Prerequisites:
None
Designed For:
CPAs, financial planners, and other professional staff.
Advanced Prep:
None
Event Notes:
Registration opens at 11:30 am.
Fees: $16/member, $21/nonmember.
Add $5 for same day and at door registration.
Includes lunch.
Valet parking is $2.
Address: Beckham Grill Restaurant, 77 W Walnut St, Pasadena, CA 91103.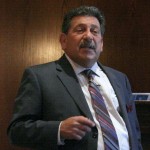 Peter Y. Stephan, executive director of the TaxResolutionInstitute.com, leads the nation's most respected Tax Resolution services firm.
Call 800-401-5926 for immediate assistance.