For those of you that run a tax-exempt organization, did you know that the May filing deadline for Form 990-series information tax returns is quickly approaching? With this deadline quickly approaching, many tax-exempt organizations find themselves caught in a bind. In addition to minding the time to file, such filings often uncover ancillary issues for tax-exempt organizations such as payroll tax problems.
May Filing Deadline Shifted
Although their business missions are well-intentioned, and we all know they do a tremendous amount of good, tax-exempt organizations often stumble into payroll tax problems through poor management or lack of knowledge.  As a side note, Form 990-series information returns and related notices are traditionally due on the 15th day of the fifth month after a tax-exempt organization's tax year ends.  In 2016, however, the date has been moved to Monday, May 16th because May 15th falls on a Sunday.
Tax-Exempt Organizations with Payroll Tax Problems
Although tax-exempt organizations are exempt from traditional income taxes on the donations they receive, they are not exempt from paying payroll taxes. If your tax-exempt organization has employees, you are responsible for Federal/State income tax withholding, Social Security withholding and Medicare withholding for those employees.  Upon collection of the withholding amounts, the company needs to make scheduled ("Trust Fund") employment tax deposits.  In addition to the above-mentioned items, some tax-exempt organizations are responsible to pay Federal unemployment tax as well.
Payroll tax problems and related trust fund recovery questions arise with tax-exempt organizations because they assume no taxes are due.  Often such organizations believe that their tax-exempt status actually extends to payroll taxes.  Although this type of mistake makes does not add up when you consider that the trust fund portion of withholding is composed of money taken from the employee and not the companies revenue.  This lack of understanding often leads to the end of a tax-exempt organizations and the noble work they accomplish.
Failure to File Lead to Revocation of Tax-Exempt Status
Tax-exempt organizations that fail to file annual reports for three consecutive years will see their Federal tax exemption status automatically revoked. The Pension Protection Act of 2006 mandates that most tax-exempt organizations file annual Form 990-series information returns or notices with the IRS.
The IRS cautioned tax-exempt organizations not to include Social Security numbers or other unneeded personal information on their Forms 990. This becomes a necessity with identity theft a major issue in the 21st century.  The IRS and most tax-exempt organizations are legally required to publicly disclose most parts of Form 990 filings, including schedules and attachments. Tax-exempt forms are clearly marked "Open to Public Inspection" in the top right corner of the first page. Public release of Social Security numbers and other personally identifiable information about donors, clients or benefactors has resulted in identity theft in the past.
The Tax Resolution Institute Can Help
The Tax Resolution Institute can help your tax-exempt organization file any necessary paperwork. In addition, we can help clean up any past tax problems, guiding your tax-exempt organization into IRS compliance. Tax-exempt organizations that need additional time to file a Form 990, 990-EZ or 990-PF can obtain an automatic three-month extension.
Surprisingly, tax-exempt organizations often need tax resolution help.  If you are involved with a tax-exempt organization and you need support in relation to either the May filing deadline or payroll tax problems, please contact the Tax Resolution Institute.  Call us at (818) 704-1443 or email us at info@taxresolutioninstitute.com to access the help you need. The goal is to keep tax-exempt organizations out of trouble with the IRS and and allowing them to keep doing the good that they do.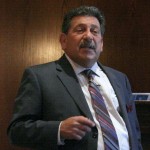 Peter Y. Stephan, executive director of the TaxResolutionInstitute.com, leads the nation's most respected Tax Resolution services firm.
Call 800-401-5926 for immediate assistance.