Spanish-speaking business owners need bilingual support when it comes to both income tax challenges and payroll tax problems. Luckily, the IRS provides a Spanish language subsection of the IRS website for small business owners. Although it provides quality information, tax problems are a challenge no matter what language you speak.
The Tax Resolution Institute addresses this problem by having a Spanish-speaking Tax Resolution Specialist on the front lines for bilingual support. If you are having a tax debt emergency and you need a door to walk through for bilingual support, you can trust the Tax Resolution Institute.
Access for Spanish-Speaking Business Owners
Although not a practitioner, Uriel Herrera worked for years as a client services specialist and a financial manager at banking institutions before joining the Tax Resolution Institute. At TRI, he has delved deeply into tax resolution, being guided by Peter Y. Stephan who is both the founder of the Tax Resolution Institute and the respected author of the Ultimate Guide to Tax Resolution. Having attended several of Peter's tax resolution seminars, Uriel Herrera has the knowledge to provide qualified guidance to potential clients looking for help, particularly bilingual support for Spanish-speaking business owners.
Like everyone else in Southern California and across the country, small to mid-sized Spanish-speaking business owners were hit hard by the recent recession. When it came to a number of tough financial choices, they often chose to support their families or finance their own business operations as opposed to paying their taxes. Whether they cut corners with personal income taxes or company payroll taxes, many Spanish-speaking business owners are in need of effective tax resolution services.
Tax Help for Spanish-Speaking Business Owners
With Uriel Herrera on the front lines offering bilingual support, Spanish-speaking business owners can find the tax help they need at the Tax Resolution Institute. When it comes to IRS income or business tax problems, the Internal Revenue Service remains the largest collection agency in the world. They will not go away until a delinquent tax debt has been paid or settled. If you are a Spanish-speaking business owner and you need bilingual support, please call Uriel Herrera at 800.401.5926 at the Tax Resolution Institute for a free consultation.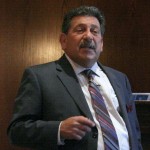 Peter Y. Stephan, executive director of the TaxResolutionInstitute.com, leads the nation's most respected Tax Resolution services firm.
Call 800-401-5926 for immediate assistance.