The Tax Resolution Institute works with countless business owners helping to resolve their tax problems.  These issues can range from something as simple as failing to file a tax return to being help personally responsible for failing to make the company's IRS payroll tax deposits.  Most business owners with tax problems understand that these issues come  more than one at a time.  Keep reading to finding out what mistakes many business owners make that lead to tax problems…
4 Common Mistakes Business Owners Make When it Comes to Taxes
1) Failure to File Tax Returns and Pay Taxes
Upon creating a new business, many owners are unaware of what needs to be done to comply with running a business.  This becomes evident quickly when an owner must determine what type of tax return do they need to file and when is the return due.  The answer to this question varies based upon the type of business entity created.  Many shareholder of corporations are not sure if they are set up as an S-corp or C-corp.  How each reports their earnings varies greatly.
To illustrate the confusion that occurs, corporate returns are currently due in March (and may be extended to September) and LLC's, partnerships and sole proprietorships are due in April (and may be extended to October); and to add even more confusion, the IRS is most likely going to change the due dates come 2017.
If you forget to or choose not to file, you will pay for the mistake. The Internal Revenue Service imposes a 5% per month penalty up to 5 months (25%) for businesses that file late.  In addition, shareholders of S-corporations and partners of partnerships are charged monthly for late filed returns.  For example S-corporation shareholders are currently assessed $195 for each month a return is delinquent.   If an S-corporation has 5 shareholders the shareholder penalties will be $11,700 (5 x 12 x $195) for each year the return remains unfiled.
If you forget to or choose not to pay your taxes for an extended period of time, it gets even worse. In addition to 6%+/- interest per year (compounded daily) levied upon unpaid taxes, the IRS charges late payment penalties of .5% per month up to 5 months for taxes not paid when due.  Keep in mind that filing an extension extends the time to file and not the time to pay.  The bottom line is you should both file and pay the IRS on time to avoid costly penalties. If you are unable to pay, that should not be used as an excuse not to file.
2) Forgetting to Make Estimated Tax Payments
Because they are not subject to withholding, most businesses are required to make quarterly estimated tax payments. This includes corporate income, self-employment income, interest income, dividend income and gains from the sale of assets.  Similar to the estimated tax payment requirements for individuals, a failure to make estimated payments can lead to problems come tax time.
If you are filing as a shareholder, partner, member or sole proprietor you generally will have to make estimated tax payments if you expect to owe more than $1,000 of tax each year.  If you do not pay at least the prescribed amounts for each quarterly payment, you may face substantial penalties.
Your tax preparer determines how much must be paid for each estimate using a worksheet.  The formula is based upon the amount you owed in the prior year.  Make sure you consult with a professional before deciding not to make estimated tax payments.
3) Taking Non-allowed Business Deductions or Missing Them Altogether
It is common practice to offset income using allowable business deductions.  The IRS's position states one may deduct "ordinary and necessary" expenses incurred while operating one's business.
According to a recent survey, 30% of small businesses fail to deduct depreciation expense on their tax returns.  Many owners also fail to include everyday expenses including automobile operating costs, and items paid for with personal funds but used for business purposes.
On the other hand, taking excessive deductions or mixing personal and business deductions may lead to more severe problems.  Doing so may lead to substantial understatement of income or overstatement of deduction penalties.  For instance, you cannot claim a family vacation or a wedding as a business expense; even if your client comes with you!  Getting a deduction now that will be scrutinized later only delays paying the tax and more often than not, the taxpayer ends up paying more when accounting for representation costs, penalties and interest.
4) Keeping Poor or Sloppy Financial Records
Given the modern age of computers and mobile devices, it is easy for business owners to keep proper financial records.  With good records, you can manage all aspects of your business including:
Properly deducting business-related expenses
Tracking and managing inventory
Maintaining and reporting employee payroll
Minimizing exposure to litigation
Preparing accurate financial statements for your tax professional
If you see you have made one or more of the above-mentioned mistakes or have a new one you want to discuss, the Tax Resolution Institute (TRI) is here to help.   Each TRI office houses a traditional CPA practice ready to help resolve your problems.  Call us anytime at (818) 704-1443 or email us at info@taxresolutioninstitute.com.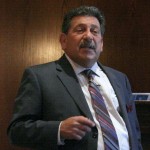 Peter Y. Stephan, executive director of the TaxResolutionInstitute.com, leads the nation's most respected Tax Resolution services firm.
Call 800-401-5926 for immediate assistance.