Why are so many small business owners suffering from employment tax problems and payroll tax issues? The Tax Resolution Institute want to help by providing three tax tips to help small business owners with business tax questions and employment tax problems. After all, the Tax Resolution Institute has a long history of helping business owners with payroll tax issues and trust fund recovery difficulties find the tax relief they so desperately need.
Employment Tax Problems Avoided
Although these three tax tips are not the answer if you have serious payroll tax issues, they will help small business owners answer business tax questions and avoid employment tax problems. By using these tax tips as a starting point and accessing professional tax help, small business owners can start to effectively address these three small business tax issues and employment tax problems.
Three Tax Tips for Small Business Owners:
1) Payroll Tax Debt Challenges
The IRS offers a payment plan in the form of an IRS installment agreement to business owners who owe less than $25,000 in tax, interest, and penalties. Such a plan is only available to small business owners if they have filed all their returns. If more than $25,000 is owed, the overage has to be paid down before qualifying for the program. To solve such employment tax problems, the payroll tax debt must be repaid within 24 months or before the Collection Statute expiration, whichever is earlier.
If the payroll tax debt exceeds $25,000 or you have not filed all of your past returns, your best bet is to contact a tax resolution specialist like The Tax Resolution Institute to access the reliable tax resolution services your company needs. With a traditional CPA firm behind at its base, the Tax Resolution Institute has the expertise needed to deal with unfiled tax returns, making sure that your company is in compliance with the IRS.
2) Threat of Retirement Plan Penalties
If you are a small business owner that sponsors a retirement plans, you could face as much as $15,000 in penalties if you don't file Form 5500. If you are facing such a fine,  did you know a Department of Labor program can help cut or eliminate penalties. Single-participant plans may avoid penalties through a one-year pilot program that the IRS began in June of 2014. The problem is that so many small business owners with employment tax problems are unaware of such new opportunities. By consulting with a tax resolution specialist, you can learn of the programs and the openings that exists that possibly could help save you and your company money.
3) Increase in Unemployment Taxes
Did you know that if a state takes loans from the Federal Unemployment Trust Fund to pay its unemployment benefits liabilities and fails to repay the loans by the November after a two-year debt period, it becomes a credit reduction state. A credit reduction state means a credit cutback against the full tax rate and higher employment taxes across the board.
A credit cutback against the full tax rate is not a good thing for small business owners. As a result, employers across the board in those states will owe higher taxes on their Form 940. A number of states may be affected in 2014 if they fail to take quick action, including Arizona, California, Connecticut, New York and Ohio. With offices in California and New York, the Tax Resolution Institute hates to see local businesses unfairly hit with such an unfair tax increase. Our tax tip to avoid employment tax problems is to plan for this increase in unemployment taxes in advance.
The Tax Resolution Institute understands the financial pressures being experienced by small business owners since the last recession. As the bigger companies bounce back, small business owners face a longer road of dealing with the economic consequences. If you have employment tax problems or payroll tax issues, please contact the Tax Resolution Institute for a free consultation by calling (818) 704-1443 today.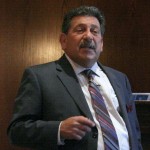 Peter Y. Stephan, executive director of the TaxResolutionInstitute.com, leads the nation's most respected Tax Resolution services firm.
Call 800-401-5926 for immediate assistance.