On July 17, 2015, Tax Resolution Institute founder Peter Stephan is offering a Tax Resolution Essentials 200A seminar and live webcast for tax professionals, certified public accountants, enrolled agents and attorneys. In addition to teaching tax resolution, TRI's Managing Partner Peter Stephan wrote The Ultimate Guide To Tax Resolution; a textbook that is the "Bible" for anyone practicing tax resolution. If you want to learn tax resolution from the best in the industry, take advantage of this opportunity. More importantly, if you have a serious delinquent tax problem, who else would you want to represent you before the IRS than the man other tax professionals look to for training and guidance?
Tax Resolution Essentials 200A
Spaces are almost full so the time to take action is right now. The goal of the seminar is to help a tax resolution professionals become a trusted advisor for their clients when it comes to tax resolution matters. Peter Stephan goes beyond the blanket treatment approach of the late-night TV hawkers that once dominated the tax resolution industry. Instead, he focuses on teaching you not only how to treat a tax problem, but how to diagnose it as well. How can you offer the right treatment without the right diagnosis?
The Tax Resolution Institute has been approved by The State Bar of California, the California Board of Accountancy, and the Internal Revenue Service to provide continuing professional education to Attorneys, Certified Public Accountants and Enrolled Agents in the area of taxation with an emphasis on tax resolution. Beyond understanding how to execute Installment Agreements and how to file an acceptable Offer in Compromise, Peter Stephan will give you an in-depth understanding of the sequence of events. From the beginning to the end of a tax resolution case, you will be guided on how to handle each step efficiently and effectively to get the best results for your clients.
Tax Resolution Success Today
Peter Stephan built the Tax Resolution Institute as a firm to help small & middle-sized companies and individuals in diverse industries with tax resolution challenges. His diverse skills that are based in experience and expertise allow tax resolution consultant Peter Stephan to help people and organizations achieve tax relief through the achievement of the very best in tax resolution outcomes.
If you are a tax resolution professional, please make the right choice and sign up for the Tax Resolution Essentials seminar or live webcast. If you are a taxpayer with a substantial income tax debt or a company with payroll tax problems, please don not hesitate to call the Tax Resolution Institute at (818) 704-1443 to access the help you need today.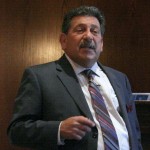 Peter Y. Stephan, executive director of the TaxResolutionInstitute.com, leads the nation's most respected Tax Resolution services firm.
Call 800-401-5926 for immediate assistance.