In their never ending quest to be the ultimate wet-blanket, the IRS has toughened the requirements needed to qualify for the gold ring of all tax settlements, the Offer in Compromise. The Offer in Compromise is considered the "gold ring" because it allows you to settle for significantly less than you owe.
In order to allow someone to "settle" their tax debt, the IRS's criteria to qualify for an Offer are much more stringent than their other programs. To have an Offer accepted, the IRS will consider many factors including:
Ability to pay;
Income;
Expenses; and
Value of assets.
To make things more difficult, the IRS has tightened its restrictions on what needs to be submitted, and it what form with regard to the contents of the offer package. It important to note that while the application fee will be returned to the applicant, the down payment will be kept and applied to back taxes, penalties and interest. For someone that has little to spare, this can be devastating.
This new rule does not apply liability encompassing the current year's tax return, if there is a valid extension on file.
Announced in the Treasury Inspector General's report on October 12, 2016, these changes go into effect on or after March 27th, 2017. The full report is available here in 27 page .pdf download.
Acceptance of your Offer in Compromise application is still contingent upon your having filed all back or unfiled tax returns.
In order to make certain that you are eligible for an offer, you can use the IRS's Offer in Compromise Pre-Qualifier tool.
Submitting an Offer in Compromise
You can find step-by-step instructions and all applicable forms for submitting an offer in the Offer in Compromise Booklet, Form 656-B (PDF). Your completed offer package will include:
Form 433-A (OIC) (individuals) or 433-B (OIC) (businesses) and all required documentation as specified on the forms;
Form 656(s) – individual and business tax debt (Corporation/ LLC/ Partnership) must be submitted on separate Form 656;
$186 application fee (non-refundable); and
Initial payment (non-refundable) for each Form 656.
Most of this information comes directly from the IRS. Be certain not to miss details on payment options, understanding the process, and what to do if your offer is accepted or not. Complete details can be found on the IRS site here: https://www.irs.gov/individuals/offer-in-compromise-1
A qualified tax professional can help ensure your success in having an Offer accepted by doing their homework which would include getting a power of attorney and petitioning the IRS for all past returns associated with your account so that nothing will be overlooked.
*This article should be considered as a source of information only. Please consult a qualified tax professional before making any decisions about your taxes.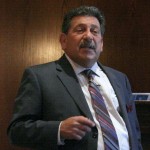 Peter Y. Stephan, executive director of the TaxResolutionInstitute.com, leads the nation's most respected Tax Resolution services firm.
Call 800-401-5926 for immediate assistance.