Nina E. Olson, the national taxpayer advocate, warned in a report that IRS customer service during the coming tax season would be the worst since 2001. As a tax resolution company backed by a traditional accounting firm, the Tax Resolution Institute wants our clients and potential clients to be aware of what is to come. If you need IRS help, expect long wait times on the phone and slower processing of filings in the coming season.
Bad IRS Customer Service In 2015
Federal taxpayers can expect the worst customer services from the Internal Revenue Service in 14 years. Budget cuts, reduced staffing and an increase in the number of tax returns will mean more headaches and greater frustration. Nina E. Olson writes in her report, "Taxpayers who need help are not getting it, and tax compliance is likely to suffer over the longer term if these problems are not quickly and decisively addressed."
A major problem is the humongous size of the IRS. Responsible for handling 150 million tax returns by individuals and approximately 100 million phone calls per year, the overworked IRS employees simply won't be able to keep up with taxpayer demands. As a result, IRS customer service suffers. Olson expects call response rates may be as low as 43%, with those who do get through on the phone needing to wait for as long as 30 minutes.
Is it surprising that IRS customer service has not been this bad for more than a decade? Do hardworking American taxpayers deserve such lousy treatment? From the professional perspective of the Tax Resolution Institute, given the burden of paying their income taxes, American taxpayers deserve respect and quality service from the Internal Revenue Service.
Nina E. Olson Critical Of IRS Customer Service
Despite being an employee of the IRS, Nina E. Olson works for the Internal Revenue Service in name only. As the National Taxpayer Advocate, she is expected to be critical. With this report at the start of 2015, she's living up to those expectations when she writes:
"The only way the IRS can assist the tens of millions of taxpayers seeking to speak with an IRS employee is to have enough employees to answer their calls… The only way the IRS can timely process millions of taxpayer letters is to have enough employees to read the letters and act on them. And the only way the IRS can meet the needs of the millions of taxpayers who visit its walk-in sites is to have enough employees to staff them…. We need to recognize that the IRS and its employees play a vital role in the economic welfare of this country. And we need to find a way to support the agency even as we hold it accountable for what is often a thankless task…. (But) We do not think it is acceptable for the government to tell millions of taxpayers who seek help each year, in essence, 'We're sorry. You're on your own.'"
 Good Tax Resolution Services Provided
In the report, Olson recommended Congress to work with the IRS to find a solution going forward to IRS customer service problems. Such a recommendation sounds good on paper, but the Tax Resolution Institute does not recommend holding your breath. If you need reliable tax professional help and quality tax resolution services, please contact us by calling (818) 704-1443.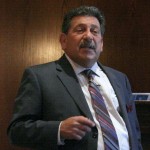 Peter Y. Stephan, executive director of the TaxResolutionInstitute.com, leads the nation's most respected Tax Resolution services firm.
Call 800-401-5926 for immediate assistance.