IRS tax evasion by a pizza shop owner doesn't seem like national news, but when the pizza shop was featured in the movie that helped jumpstart the acting career of Julia Roberts, it's a different story. John Zelepos, the owner of Connecticut's famous Mystic Pizza faces 15 years in prison after pleading guilty to tax evasion and financial structuring crimes. The Tax Resolution Institute warns business owners never to screw around with the IRS.
After acting as the setting for the 1988 movie about three waitresses, the Connecticut pizza shop took off in popularity. As the money poured in, John Zelepos diverted over half a million dollars in profits into his own bank accounts. In the court decision, he agreed to make restitution of $234,407 to the IRS for incomplete tax filings dating from 2006 to 2010, and to forfeit an additional $522,658 that he deposited into his personal accounts.
IRS Tax Evasion Is A Bad Idea
By structuring his company's finances in a manner designed to avoid financial reporting, he ended up in big trouble with the IRS. The financial structuring charges amount to trying to avoid IRS reports for large transaction.  Banks and merchants are required to send whenever they handle cash transactions exceeding $10,000. Trying to avoid such reporting requirements is equal to IRS tax evasion. The case involves the kind of financial and banking detail that really gets under the skin of IRS Revenue Officers. Mr. Zelepos failed to keep his business and his personal accounts separate.
Prosecutors claimed that Mr. Zelepos intentionally structured transactions in amounts from $3,000 to $9,998 to prevent banks from filing currency transaction reports. 61 currency transactions totaling $522,658 in amounts less than $10,000 were deposited from January 5, 2010 until January 24, 2011. Knowing that the bank was required to issue a report for each transaction in excess of $10,000, Mr. Zelepos would spread out the payments. Employing such a strategy to cover diverted funds is nothing less than IRS tax evasion.
Payroll Account Seized By The IRS
In September of 2014, Mystic Pizza was ordered to pay 110 employees a total of $105,000 in compensation for labor violations. Investigators found that workers were paid less than minimum wage and did not receive overtime. Mr. Zelepos paid cooks, dishwashers, and hosts as little as $5.69 an hour, and they worked up to 93 hours a week with no paid overtime. In 2012, IRS Special Agents seized $63,084.49 from a payroll account Mystic Pizza held at Chelsea Groton Bank.
When it comes to business taxes, the Payroll Tax Problem Solvers recommend acting above-board with the IRS. Whenever it comes to employment tax deposits, business transaction reporting and the proper treatment of employees, the best guide is always to follow the letter of the law. If you work with the Tax Resolution Institute, our tax attorneys and CPAs will guide you away from IRS tax evasion and toward the secure reality of quality tax resolution services.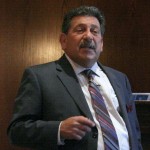 Peter Y. Stephan, executive director of the TaxResolutionInstitute.com, leads the nation's most respected Tax Resolution services firm.
Call 800-401-5926 for immediate assistance.