A Los Angeles IRS bank levy issued to a Malibu-based film executive and independent producer led to a real need for tax resolution support. The Malibu-based film executive stopped paying his income taxes in 2012 when he transitioned into the role of an independent producer. Given his past influence as a powerful president of production, he was certain that his movie projects would become profitable productions within the year.
Delay Leads To Los Angeles IRS Bank Levy
Despite his past success as a film executive, he hit several financial brick walls when it came to getting his own film slate made. To begin with, a major actor attached to his first big production dropped out to take a role in a bigger studio project. Next, his overseas financing dried up when his international partners were hit with revenue problems in their native country. Suddenly, his slate of upcoming films entered the endless spiral of what is known in Hollywood as development hell.
When the film executive was faced with a huge 2012 tax bill, he decided to first take an extension until a deal materialized. When everything remained hot air, he failed to file in September and sat in his tax bill. Although he knew he would be penalized, he wanted to keep his remaining funds in his bank. He even liquidated his stock accounts to take profits in 2013, placing the money in a high yield savings account to help cover his costs.
Los Angeles IRS Bank Levy Hits Hard
When the same pattern repeated in 2013, he was caught between a rock and a hard place. With an even bigger tax bill on account of the capital gains taxes on his stocks, the film executive found the life of an independent producer to be really hard. It got even harder when the IRS started sending notices and placed a tax lien on his remaining accounts. Ignoring the avalanche pouring down on top of him, the film executive did nothing until he received an IRS Notice of Intent to Levy. Realizing the gravity of the situation, he contacted the Tax Resolution Institute.
Tax Resolution Institute Help
The Tax Resolution Institute knew there were only 21 days to act. Filing the film executive's delinquent return and contacting the IRS Revenue Officer, the tax resolution specialists at TRI took immediate action. By taking quick action, a bank levy release led to the Los Angeles IRS bank levy never being enacted. Instead, a very reasonable IRS Offer in Compromise was negotiated. The film executive stayed above water and, in late 2014, one of his films went into production.
If you need Los Angeles IRS bank levy help, call the Tax Resolution Institute at (818) 704-1443.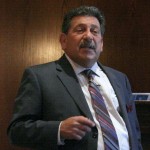 Peter Y. Stephan, executive director of the TaxResolutionInstitute.com, leads the nation's most respected Tax Resolution services firm.
Call 800-401-5926 for immediate assistance.