Part 1 – What Is An IRS Revenue Officer?
If you are delinquent in paying your IRS income taxes, there is a very good chance that you will be contacted by an Internal Revenue Officer, known as an IRS Revenue Officer of just a Revenue Officer for short. The Tax Resolution Institute wants to help you understand  what is an IRS Revenue Officer and what it is that they do in order to collect delinquent income tax debts. This is part 1 of a two part article. In part 1, we will answer the question of what is an IRS Revenue Officer. In part 2, we will describe the collection actions an IRS Revenue Officer can take to collect back tax debts owed to the federal government.
IRS Revenue Officer As A Tax Collector
In modern times, An IRS Revenue Officer tends to be referred to as a Tax Collector, but this form of address is unofficial. The truth is that a Revenue Officer does quite a bit more than just collect back income taxes owed to the IRS. While executing their jobs, IRS Revenue Officers need to wear many different hats. They often act as investigators, negotiators, and enforcement officers as well as being tax collectors. What is important to realize is that Revenue Officers have no interest in the merits of whether a tax is due or not.
In a description of the job in an online pdf, the IRS describes the role of an IRS Revenue Officer in the following manner:
"Revenue officers have extensive face-to-face personal contacts with taxpayers, attorneys, accountants, and other representatives and spend a major portion of their time in field work. Office time is spent ordering cases, conducting preliminary analyses of cases, scheduling appointments, consulting with group managers, preparing administrative reports, and assembling case files for closure. 
The work requires analytical skills and judgment to make a range of choices such as: how to advise the taxpayer on liquidating tax liabilities; whether to seize and sell; whether to accept a part-payment agreement; whether to recommend 100-percent penalty assessment; whether to accept an offer in compromise, partial lien discharge, or subordination; or whether to initiate suit recommendations."
After receiving extensive class room training on all aspects of tax law and IRS procedure, a new Revenue Officer will be assigned to a senior Revenue Officer for on the job training. This is one of the only times where IRS Revenue Officers will work in tandem. After on the job training is complete, entry-level Revenue Officers will normally handle tax cases of individual taxpayers where the amount owed is not significant. Once they develop their skills in the field, many Revenue Officers will end up specializing in a particular aspect of tax collection, such as real estate tax issues, construction tax issues, or international tax issues.
IRS Revenue Officer, Not Law Enforcement Officer
Although IRS Revenue Officers enforce certain aspects of the tax code and tax law, they should never be confused with actual law enforcement officers. IRS Revenue Officers do not carry a sidearm and they cannot make arrests. Without question, however, the job of an IRS Revenue Officer includes quite a bit of risk. Revenue Officers are often in contact with angry taxpayers in desperate straits who consider them to be nothing less than an enemy.
Still, a Revenue Officers is not the first line of IRS contact made with a delinquent taxpayer. A Revenue Officer is only assigned to a back tax case after a Contact Representative has already made several attempts to reach the delinquent tax payer by mail and telephone. Once those initial attempts has failed and the back tax case has been opened for collection, an IRS Revenue Officer takes over.
IRS Revenue Officer & Collection Actions
In part 2 of this two-part series, the Tax Resolution Institute will quickly delineate the variety of collection actions that Revenue Officers can take against delinquent taxpayers. If you have been contacted by an IRS Revenue Officer, please get in touch with the Tax Resolution Institute to access the help that you need. Call us at 800.401.5926 for a free consultation or fill out our contact form.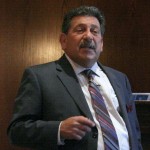 Peter Y. Stephan, executive director of the TaxResolutionInstitute.com, leads the nation's most respected Tax Resolution services firm.
Call 800-401-5926 for immediate assistance.