What is IRS penalty abatement?
If you think the IRS has or is going to penalize you for back taxes owed or not filing tax returns, you need to know about IRS penalty abatement. It could be the answer you need to protect your financial future.  In this two-part article, the Tax Resolution Institute explains what penalty abatement is and offers three strategies that can significantly reduce and possibly eliminate the penalties assessed based upon IRS back taxes or unfiled tax returns.
Importance of IRS Penalty Abatement
Did you know the IRS issues billions of dollars in back tax penalties each year?  If you owe back taxes stemming from a hardship condition, you may qualify to have your penalty/s abated.  Obviously, if you do nothing the IRS will come after you for back taxes owing which will include tax, interest, penalties and interest on the penalties.  It is important to understand that IRS interest and penalties can exponentially increase your original tax bill.  This is why IRS penalty abatement is such an important tax resolution strategy.
A taxpayer may request an IRS penalty abatement based upon hardship or other qualification including being assessed for the first time.  I, the IRS In certain cases the Revenue Officer or IRS representative may actually remove 100% of the penalty and interest related to the penalty.  The IRS has stringent rules to follow when requesting abatement of penalties and in most cases the taxpayer should seek assistance from a qualified CPA or tax attorney to do so.
Penalty Abatement Strategies
Be diligent in doing what you can…even if that means not paying your taxes
Get your facts in order and keep your story straight
Be organized and provide complete and accurate supporting documentation
IRS Penalty Abatement Strategy One:
Be diligent in doing what you can…even if that means not paying your taxes
The IRS does not look kindly upon taxpayers who failed to file their tax returns to avoid paying tax.  Rather, they want taxpayers to remain in compliance.  A taxpayer will be more likely to have a failure-to-file penalty removed if they are unfiled for a single year when compared to a taxpayer that perennially fails to file returns.  The penalty for filing a return late is generally five percent of the assessed amount due per month or partial month up to 5 months (up to 25%).  Over an extended period of time, the failure to file may double or even triple your IRS income tax bill.  Remember, the best chance you have to eliminating penalties is to be diligent.
Stay Tuned…
In the second part of this two-part article, the Tax Resolution Institute will discuss the two additional strategies you need to know to have penalties abated.  By understanding the ins and outs of abating IRS penalties, you can stay one step ahead of the game.  If you need help right away, feel free to contact the Tax Resolution Institute by calling us at (818) 704-1443 or emailing us at info@taxresolutioninstitute.com.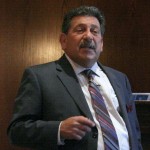 Peter Y. Stephan, executive director of the TaxResolutionInstitute.com, leads the nation's most respected Tax Resolution services firm.
Call 800-401-5926 for immediate assistance.