Did you know that IRS innocent spouse relief is more accessible than ever before? The Tax Resolution Institute wants taxpayers to know that revisions made to the Internal Revenue Code, as well as a mellowing in the Internal Revenue Service's approach to granting innocent spouse relief, has made it easier to access IRS innocent spouse relief. The goal of the tax attorneys at TRI is to make sure that you ate not hurt by the tax problems of your ex.
Accessing Innocent Spouse Relief
Since most of this income tax debt was created by an ex-spouse or a spouse from whom you are separated or living apart, why should you be hurt by it? After all, it is not unusual for clients involved in divorce proceedings to have disclosures made which result in large joint income tax debt due to an ex-spouse's tax fraud. Under IRC §6015, the availability of relief from liability on a joint return for items attributable to a spouse or former spouse has been expanded by relaxing the requirements for obtaining IRS innocent spouse relief. To begin with, the elimination of the threshold requirements under prior law that the understatement be substantial and based upon a grossly erroneous item.
Old IRS Innocent Spouse Relief Rules
Under prior law, in order to qualify for IRS innocent spouse relief from the foregoing rule an innocent spouse had to establish the following:
Joint Return
An understatement of tax that exceeded the greater of $500 or a specified percent of the innocent spouse's adjusted gross income (10% if adjusted gross income was $20,000 or less; otherwise, 25%) for the pre-adjustment year was attributable to a grossly erroneous item of the other spouse
In signing the return, the innocent spouse didn't know, and had no reason to know, that there was an understatement of tax
Taking into account all the facts and circumstances, it would have been inequitable to hold the innocent spouse liable for the tax deficiency.
New Innocent Spouse Relief Rules
Under revised section 6015, a taxpayer who files an innocent spouse election within two years after the start of collection activities may obtain relief from joint and several liability for any understatement of tax attributable to erroneous items of the other spouse, upon establishing the following requirements:
Joint return
Understatement of tax attributable to erroneous items of the other spouse
The other individual filing the joint return proves that in signing the return he or she did not know or have reason to know of the understatement
It would be inequitable to hold the electing spouse liable for the deficiency
In addition to seeking IRS innocent spouse relief by filing an innocent spouse election, a taxpayer who is either divorced or legally separated from or who has been living apart from his or her joint filer for 12 months, now has the option to elect to have his or her tax liability separately determined. Such an election must be made within two years of the start of collection activity against the electing taxpayer. If made they can choose to limit their liability if the IRS later comes banging on their doors.
Under IRC § 6015(c) spouses are treated as if they filed separate returns and are each taxed accordingly. Since the burden is placed on the taxpayer to show proper allocation of items, the Tax Resolution Institute can help with such delineations. The allocation of items of income and deductions is intended to follow current rules applicable to married individuals filing separate returns.
Innocent Spouse Relief Help
Given the changes in IRS innocent spouse relief rules and regulations, freedom from your ex-spouses mistakes is a much greater possibility. Their back tax problem caused by their negligence should not hurt you and your family Please contact the Tax Resolution Institute at (818) 704-1443 to access the help you need.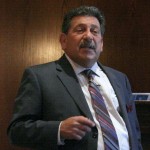 Peter Y. Stephan, executive director of the TaxResolutionInstitute.com, leads the nation's most respected Tax Resolution services firm.
Call 800-401-5926 for immediate assistance.