Even if you are a legendary MMA fighter, IRS income tax underpayment is a big mistake. Before his return to the cage in Bellator 149 to face old nemesis Ken Shamrock, UFC Hall of Famer Royce Gracie finds himself in a serious fight with the IRS over his taxes. Di Gracie rightfully claimed a tax credit for the poor or did he commit fraud in order to reduce his tax bill? Did Royce Gracie try to submit the IRS by illegally claiming the Earned Income Credit, a tax subsidy designed for low-income working families?
MMA Pioneer Gracie & IRS Income Tax Underpayment
Gracie's tax problems began in 2012 when he and his wife each received an IRS administrative summons "seeking information about their foreign bank and foreign investment activities." The IRS believed they had discovered foreign bank accounts in which the Gracies had signature authority, yet did not disclose to the IRS. The IRS agent assigned to the case claimed that over $3 million was wired into the U.S. from these bank accounts on behalf of the Gracies, which appeared to be in conflict with their "minimal taxable income" and certain claims for tax credits taken by the Gracies, including the Earned Income Credit.
The Earned Income Credit is essentially a subsidy to low-income, working families, providing a tax credit to the working poor that phases out as a family's income rises. Why would a UFC Hall of Famer who claims to oversee more than 55 U.S. and international Royce Gracie Jiu-Jitsu Networks, and his wife, a doctor of podiatric medicine, fall into the category of the working poor?
Earned Income Credit Fraud
On April Fools' Day 2015, the IRS sent the Gracies a completely serious Notice of Deficiency claiming they owe $657,114 in back taxes and $492,835.25 in penalties for Civil Fraud based on IRS income tax underpayment through IRC 6663(a). The IRS statute reads, "If any part of any underpayment of tax required to be shown on a return is due to fraud, there shall be added to the tax an amount equal to 75 percent of the portion of the underpayment which is attributable to fraud."
To fight the IRS, the Gracies filed a Petition last June in U.S. Tax Court outlining four lines of defense. The first two defenses basically claim the IRS is wrong, that it erroneously increased the Gracies income each year and erroneously asserted a civil fraud penalty. The third line of defense claims the statute of limitations has passed for tax years 2007-2011. The last and final line of defense tries to at least protect Gracie's wife by claiming Innocent Spouse Relief.
Innocent Spouse Relief Claim
According to the IRS Answer, Royce Gracie's income from activities including fighting, martial arts centers, licensing deals, and personal and TV appearances is assigned to his company, Khonkhor Enterprises, of which he and his wife are each 50% shareholders. In addition, Gracie's wife maintains all books and records, pays all bills, and negotiates all business dealings for Khonkhor. As a result, any innocent spouse defense is invalid.
The allegations against the Gracies include the use of company funds to pay for personal living expenses, fake personal loans, direct transfers and payments, fake loan documents, and collect over $3 million in foreign wire transfers. All of this took place concurrently with the Gracies reporting between $0 and $3,925 in annual income tax liability to the U.S. government. These are very serious and specific allegations. If the IRS's documents are correct, the Gracies avoided paying most of their tax burden in 2007-2012 while having a lot of unexplained money in overseas bank accounts.
IRS Tax Court Looming
In tax court when it comes to IRS income tax underpayment, the petitioners bear the burden of proof so the Gracies must prove the IRS's Notice of Deficiency is incorrect. Since the case also involves an allegation of fraud with the intent to evade tax, however, the burden of proof on the specific element of fraud is shifted to the IRS. Whatever the final outcome, there's one big lesson here that the Tax Resolution Institute wants to remind all of our clients: Don't try to fight the IRS because you are bound to be submitted.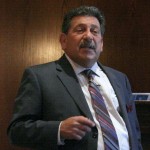 Peter Y. Stephan, executive director of the TaxResolutionInstitute.com, leads the nation's most respected Tax Resolution services firm.
Call 800-401-5926 for immediate assistance.