The Internal Revenue Service is responding to the real needs of taxpayers in trouble with terrible IRS customer service. With a significant cut in its budget over the last five years, the IRS provided abysmal phone service this past tax-filing season. In her mid-year report to Congress, National Taxpayer Advocate Nina E. Olson revealed a profound failure in IRS customer service.
IRS Customer Service Bottoms Out
Although the Internal Revenue Service has raised the red flag as a warning against identity theft for taxpayers, IRS customer service answered only 10% of calls by potential identity theft victims were actually answered. To protect itself, the IRS has taken steps to block fraudulent refund claims by identity thieves, holding up the processing of many legitimate tax returns with 1.6 million returns frozen.
At the very least, a third of this year's frozen returns are from legitimate taxpayers. The Tax Resolution Institute sides with the frustrations and anger of the legitimate taxpayers as they are being subject to an inquisition. Even worse, when these taxpayers do try to access help, they are being ignored with only 17% of their calls actually answered by a human being at the Internal Revenue Service. In other words, IRS customer service is the pits.
Taxpayers whose returns have been frozen are sent letters telling them to call a special Taxpayer Protection Program (TPP) line to confirm their identities. However, only 17% of 2.9 million phone calls made to the TPP line got through to an IRS employee and those callers who did reach a person spent an average of 28 minutes on hold first. For three consecutive weeks, from Feb. 21st to March 14th, the IRS answered fewer than 10% of calls from these possible ID theft victims with the average hold time being an hour.
Bad IRS Customer Service = Tax Relief Needed
Without question, National Taxpayer Advocate Nina Olson was not pleased by this lack of IRS customer service. In her report to Congress, she clearly pointed out:
"Taxpayers, and their representatives, need the ability to talk with IRS employees, explain their circumstances, and make sure that the IRS understands their position. The IRS should want to talk with these taxpayers, because each conversation provides an opportunity for it to understand the taxpayer's facts and circumstances, recognize a situation that presents a different issue, educate the taxpayer about what is required for full compliance, and provide a full resolution to the taxpayer's problem."
Tax Resolution Services Offered
Yes, the Tax Resolution Institute fully believes in finding ways to 'provide a full resolution to the taxpayer's problem" with the IRS. Although we cannot help when it comes to identity theft questions, we do specialize in providing tax resolution services for delinquent tax debts. Most importantly we provide excellent customer service by getting the job done effectively and with a proper diagnosis. If you need help with the IRS, please contact the Tax Resolution Institute for a free consultation by calling (818) 704-1443 today.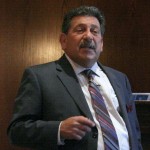 Peter Y. Stephan, executive director of the TaxResolutionInstitute.com, leads the nation's most respected Tax Resolution services firm.
Call 800-401-5926 for immediate assistance.