Tired of seeing innocent American taxpayers hurt by con artists, the Internal Revenue Service issued an IRS consumer scam alert at the end of August on the IRS.gov website. The stated goal of the alert is to provide taxpayers with additional tips to protect themselves from telephone con artists. These con artists are calling American taxpayers and pretending to be with the IRS in order to obtain payments and identity theft information.
IRS Commissioner John Koskinen Issues IRS Consumer Scam Alert
IRS Commissioner John Koskinen described his disgust with this practice that is becoming more and more prevalent: "These telephone scams are being seen in every part of the country, and we urge people not to be deceived by these threatening phone calls. We have formal processes in place for people with tax issues. The IRS respects taxpayer rights, and these angry, shake-down calls are not how we do business."
Whether demanding money or offering a fake refund, the callers attempt to trick taxpayers into sharing private information. The Tax Resolution Institute has had past clients hit with these nefarious tactics. What is so disturbing is how these educated people were drawn into the scam because the con artists can sound convincing when they call. Not only do they know a lot about you, they also alter the caller ID to make it look like the IRS is calling. Employing fake names and bogus IRS identification badge numbers, they create a sense of emergency and red alert by leaving an urgent callback request.
Strategies Offered By IRS Consumer Scam Alert
According to the IRS Consumer Scam Alert, there are  five things the con artists often do that an Internal Revenue Service employee will never do. Any one of these five things is a tell-tale sign of a scam. Please remember that the IRS does not use email, text messages or any social media to discuss your personal tax issue.
The Tax Resolution Institute reposts this list as a resources for our clients and our potential clients. After all, a top priority is to help you maintain your safety so you can access the tax resolution help you truly need. If you are violated by a con artist, you are less likely to access quality tax resolution services
According to the IRS Consumer Scam Alert, the IRS will never:
1. Call you about taxes you owe without first mailing you an official notice.
2. Demand that you pay taxes without giving you the opportunity to question or appeal the amount they say you owe.
3. Require you to use a specific payment method for your taxes, such as a prepaid debit card.
4. Ask for credit or debit card numbers over the phone.
5. Threaten to bring in local police or other law-enforcement groups to have you arrested for not paying.
If the IRS Consumer Scam Alert applies to you, here are two strategies you can take to address the problem:
Report the incident to the Treasury Inspector General for Tax Administration (TIGTA) at 1.800.366.4484 or at www.tigta.gov.
Contact the Federal Trade Commission and use their "FTC Complaint Assistant" at FTC.gov and add "IRS Telephone Scam" to your comments.
The Tax Resolution Institute congratulates IRS Commissioner John Koskinen for releasing the IRS Consumer Scam Alert. Given the difficulties faced by the tax resolution industry, the last thing needed are con artists taking advantage of taxpayers by posing as IRS Revenue Officers. At this point in time, American taxpayers need to know they can rely on tax resolution services that deliver real results that work. To find out more about quality tax resolution services, please call the Tax Resolution Institute for a free consultation at 800.704-1443.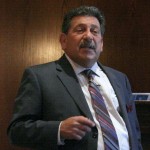 Peter Y. Stephan, executive director of the TaxResolutionInstitute.com, leads the nation's most respected Tax Resolution services firm.
Call 800-401-5926 for immediate assistance.