Do you know the benefits of the IRS Collection Due Process (CDP) appeals program? The Internal Revenue Service offers various levels of appeal to taxpayers with respect to delinquent tax debts owed to the federal government. If an enforcement action is taken by the IRS to collect a delinquent tax debt, taxpayers have the right to exercise a set of appeal rights.
IRS Collection Due Process (CDP)
The Tax Resolution Institute wants potential clients to know they have the right to try to appeal IRS enforcement actions like tax liens, tax levies, and asset seizures. In most cases, such appeals actually can be made both prior to and after the enforcement action is taken by the IRS. A CDP appeal is requested by a Request for a Collection Due Process or Equivalent Hearing via IRS Form 12153.
What is important to know is that this form is sent to taxpayers in conjunction with certain actions that can be appealed. As a result, learning terrible financial news comes in conjunction with a way to turn that news on its head through an IRS Collection Due Process appeal.
Two examples of actions that can be appealed through the IRS Collection Due Process (CDP):
After A Federal Tax Lien Has Been Filed
A Notice of Lien makes a taxpayer's financial resources secured and public. A Federal Tax Lien attaches itself to any real property a taxpayer may own or acquire. Accompanying the Notice of Lien will be IRS Form 12153. If a taxpayer believes the IRS has filed the Notice of Lien in error, it makes sense to request the appeal. In addition, if a taxpayer is worried the lien filing will prevent sale of property needed to cover the delinquent tax debt, an IRS Collection Due Process appeal should be filed.
Although the IRS typically only releases a lien when the balance is paid in full, a taxpayer is sometime eligible to have an IRS tax lien subordinated or withdrawn. In addition, a parcel of property can be discharged from the lien. The instructions attached to the IRS Form 12153 discuss such possibilities in detail. Still, the Tax Resolution Institute know from experience how important it is for a taxpayer in such a bind to have a tax resolution professional in their corner.
After A Notice of Intent To Levy Has Been Received
Prior to the IRS issuing a bank levy or wage levy, a Notice of Intent to Levy and Notice of Your Right to a Hearing are sent together to a taxpayer. Sent as a certified letter, the taxpayer's signature is required at the post office. How often in such trying times is IRS Form 12153 accidentally ignored by a distressed taxpayer?
If a taxpayer disagree with the balance of the tax debt, they can use IRS Form 12153 to propose an IRS Collection Due Process appeal. In addition, if a taxpayer wants to propose a collection alternative like an installment agreement, it can be done via the IRS Collection Due Process appeal. Such a proposal truly call for the support of a tax resolution specialist like the team of CPAs and tax attorneys at the Tax Resolution Institute.
Currently Not Collectible Status Achieved
Per IRS Form 12153, a taxpayer can also request a IRS Collection Due Process appeal because they cannot make a payment on their taxes due the limitations of  a fixed income, current employment problems, a preventive medical condition, or any other viable hardship. When such an appeal is successful, the tax debt is placed in Currently Not Collectible Status. The IRS Office of Appeals may also consider freezing collection action until a taxpayer's circumstances improve.
Given any of the circumstances of the IRS Collection Due Process (CDP) and the goals of filing IRS Form 12153, success often is determined by the team behind the taxpayer. If you need help with IRS Collection Due Process (CDP) and whether or not filing IRS Form 12153 makes sense for you, please do not try to go it alone. Rather, contact the Tax Resolution Institute for a free consultation by calling (818) 704-1443 today.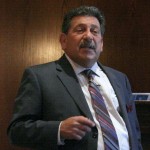 Peter Y. Stephan, executive director of the TaxResolutionInstitute.com, leads the nation's most respected Tax Resolution services firm.
Call 800-401-5926 for immediate assistance.