Since the Internal Revenue Service now can revoke your passport, you may not want to book that European vacation if you have failed to pay your back income tax debts. In the winter of 2015, a Congress issued a "cold front" by potentially freezing the ability of a substantial portion of American citizens to travel abroad when they passed the Fixing America's Surface Transportation Act. The act is designed to address our nation's crumbling infrastructure by raising money from taxpayers; however, revoking passports does not seem like an equitable solution let alone anti-American.
The IRS Can Revoke Your Passport
Known as the FAST Act, this law allows the IRS to share information with the State Department for the purpose of punishing delinquent taxpayers. This sharing provision gives the State Department the power to take punitive actions against taxpayers which at the very least can be unsettling. If someone owes back taxes and are flagged by the IRS, the State Department has the power to revoke an existing passport for those who have one as well as refuse to issue a passport to those applying.
The new law, entitled "Revocation or Denial of Passport in Case of Certain Tax Delinquencies," also has the power to reject passports up for renewal. The threshold that triggers exposure to have one's passport revoked is $50,000 owing including penalties and interest. This amount under the new law is considered to be a "seriously delinquent debt".
Revocation or Denial of Passport in Case of Certain Tax Delinquencies
The Joint Committee on Taxation believes the IRS' new passport threat will raise and additional $398 million in tax revenue over the next 10 years. It is important to note that this new legislation  allows the IRS can cancel your passport by merely alleging you owe money and the burden of proof to have it returned is on the unsuspecting taxpayer. The IRS and the State Department are not required to obtain a judge's order or even to obtain court review to revoke one's passport.  In addition, the law does not offer taxpayers the chance to fight the IRS's decision in court prior to action being taken. It does not make sense for the IRS and the State Department to operate in "guilty until proven innocent" mode.  It defies the very basis of the American justice system.
Overcoming The Damage of The FAST Act
Like most issues arising from IRS tax problems, this can be resolved relatively painlessly if you "head the problem off at the pass".  On the other hand, if the IRS flags you they will go to the office of the Secretary of State and ask that action be taken. In turn, a move to deny or revoke your passport as a delinquent taxpayer could happen.  As you can imagine, having this happen will cause unnecessary issues with upcoming travel and cause the need to deal with this issue under immense financial and emotional stress.
A key question you may be asking is how can a taxpayer owing more than $50,000 keep their passport? The answer is to enter into an agreement with the IRS.  You may enter into an installment agreement, submit an accepted offer in compromise or if applicable secure spousal relief.  Another possible remedy is to request and be victorious in a Collection Due Process ("CDP") hearing. Calling for a CDP hearing should at least temporarily stop the certification process and subsequent passport revocation. Once the CDP hearing is set-up, the tax court will first schedule, then address your case. In some cases, taxpayers may choose to pay down their liabilities to under the threshold in order forego having their passports taken away.
Accessing Quality Tax Resolution Support
For those taxpayers who "prefer to look at the glass as half-full", the $50,000 liability threshold is significant enough to offer delinquent taxpayers the most options to resolve their tax issues. If you have a tax debt of $50,000 or more and your spouse desperately wants to go on that European vacation, or just visit relatives abroad, the Tax Resolution Institute can help by ensuring you can plan and depart without concern that your trip may be cancelled or cut short.  If you contact us without delay, we can deliver the experience and expertise you truly need to settle your back tax debts.
It should be comforting to know that whatever option makes the most sense in relation to your delinquent income tax debt, the Tax Resolution Institute has the experience and skills to put an end to this IRS nightmare.  We can help navigate this process in order to get your passport back if it has been revoked.
To learn more about how the Tax Resolution Institute can help resolve your back tax debt while making sure your passport isn't revoked, please call (818) 704-1443  or email us at info@taxresolutioninstitute.com today.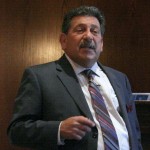 Peter Y. Stephan, executive director of the TaxResolutionInstitute.com, leads the nation's most respected Tax Resolution services firm.
Call 800-401-5926 for immediate assistance.