An IRS bank levy is serious business, and it can easily threaten your financial future as a Los Angeles entertainment professional found out first-hand. As a producer on reality shows, the business life of the Los Angeles entertainment professional was a roller-coaster ride of ups and downs. When he had a hit show, everything was golden, his bank account was fat and his family went on expensive vacations. When a project wasn't picked up for production and a great notion for a reality show went down the drain, the opposite was the case. But an IRS Bank Levy was an impossibility, right?
Always believing the next golden goose was around the corner, the Los Angeles entertainment professional spent like crazy and built up hefty credit card debt that was flanked by mortgages, car payments and private school tuitions. In other words, his nut was huge, his savings small. As a result, the place where he chose to cut corners was when it came to his IRS income taxes.
Back Taxes Owed = IRS Bank Levy Looming
Even after he received numerous letters and warnings from the Internal Revenue Service, even after a tax lien was placed on his holdings, the Los Angeles entertainment professional believed the next big paycheck to solve the crisis was just over the horizon. With enough in the bank to cover his expenses for a good long while, he figured he could stall the IRS until that time. Everything would work itself out.
Sure, his IRS income tax debt, his back taxes owed, amounted to an intimidating six figures with penalties and interest accumulating on a daily basis. Having been in tight spots before, the Los Angeles entertainment professional figured he could squeeze out of this financial jam. An IRS bank levy wouldn't happen to him.
IRS Bank Levy Hits Hard
The process of an IRS bank levy begins with an IRS Notice of Levy. Once you receive an IRS Notice of Levy, the IRS bank levy has been sent and your bank has been notified. As a result, all of your accounts are frozen until the bank sends the money to the IRS. Before the bank forwards the money to the IRS, there is a 21-day waiting period before the IRS bank levy is enacted.
Luckily, the Los Angeles entertainment professional stopped dreaming and started into action by contacting the Tax Resolution Institute. After all, if his bank account was drained, how would he cover that huge nut and protect his family? Getting right into action, the tax professionals at TRI were able to obtain an IRS bank levy release for the man and his family. After negotiating a reasonable payment plan, the IRS bank levy went from being a complete disaster to an answer to the man's tax problems.
IRS Bank Levy Release
But it was close. Remember: You only have 21 days to act once the IRS Notice of Levy is received. If you need help with an IRS bank levy, please contact the Tax Resolution Institute today for a free consultation by calling (818) 704-1443 for help.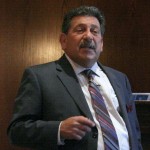 Peter Y. Stephan, executive director of the TaxResolutionInstitute.com, leads the nation's most respected Tax Resolution services firm.
Call 800-401-5926 for immediate assistance.