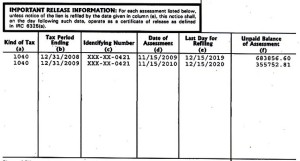 Knowing how to read an IRS tax lien is essential to being able to understand what is happening to you. Please take your tax lien and take a hard look at it. The Tax Resolution Institute understands how painful this can be, but it is essential to face the reality of your tax debt situation.
The top of the document will say "Notice of Federal Tax Lien."  As an overview, in the center of the lien are six columns, identified with letters (a) through (f). Each column lists the following:
(a)  The type of tax you owe
(b)  The tax years
(c)  The last four digits of your social security number
(d)  The date the IRS put your balance due on its books
(e)  The last day the IRS can refile the lien if it needs to
(f)  A balance due.
It is essential to realize that the balance due is not what you presently owe to the IRS. Such balances presented on IRS tax liens are not current and do not reflect accrued interest, penalties or any payments you may have made. If you need help with an IRS tax lien, please contact the Tax Resolution Institute for a free consultation.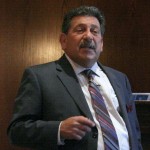 Peter Y. Stephan, executive director of the TaxResolutionInstitute.com, leads the nation's most respected Tax Resolution services firm.
Call 800-401-5926 for immediate assistance.