Hiring a tax resolution specialist makes more and more sense when you see the unopened envelopes from the IRS or your State taxing agency sitting on your desk. Many taxpayers hope if they just ignore the problem that it will go away. As the respected bastion of many a tax resolution specialist, the Tax Resolution Institute wants to guarantee you that your unfiled tax returns and delinquent income tax debts will not just go away.
Tax Resolution Specialist Helps You Get Up To Date
In order to access an Installment Agreement or other tax payment plan, you must have all your tax returns filed and up to date with the government. As a tax resolution firm backed by a traditional accounting practice, the Tax Resolution Institute is the rare company that can help you cover all the bases. From preparing and filing past tax returns to negotiating with the IRS, we can help you accomplish what needs to be done. The goal is to get the tax problem monkey off your back, stop the constant chattering about your IRS debts, and thus help you finally get a good night's sleep once again.
3 Reasons To Hire The Right Tax Resolution Specialist:
1) A Tax Resolution Specialist Understands Your Rights As A Taxpayer
Contrary to popular belief, every taxpayer has inherent rights. One of those rights is to have proper representation. If an IRS Revenue Officer contacts you, you are under no obligation to answer any of their questions. These questions can be intrusive and condescending. The government is in business to collect whatever is owed them. Often, they will manipulate that situation to their advantage. After all, just like you or anyone else, an IRS Revenue Officer has a job to do.
As a taxpayer, all you need to is politely request their contact information and tell them you are in the process of hiring a professional to represent you and that this person will contact them directly. As a tax professional, the tax resolution specialist you hire from the Tax Resolution Institute is intimately aware of the "ins" and "outs" of how to deal with the IRS.  A tax resolution specialist also knows how to properly structure a payment plan that fits your circumstances. If you hire a tax resolution specialist, in the majority of cases, you will not have to interact with the IRS whatsoever.
2) Flexible IRS Payment Plans For Tax Debts Under $200,000
If you owe between $10,000 and $200,000, the IRS has many flexible programs available to help you resolve your delinquent tax debt. To access these programs, you really need the support of a tax resolution specialist.  The programs include Offers in Compromise, Partial Pay Installments, Installment Agreement Payment Plans, Penalty Reductions, and Currently Not Collectible Status. Each tax resolution outcome demands the understanding of a unique process, procedures and qualifications.
By having the tax resolution institute in your corner,  you gain access to the best options available to you because of out expertise and our experience working with the IRS.
3) Unfiled Tax Returns Are More Serious Than You Imagine
Unfiled returns are much more serious than most people think or even know. Without a doubt, having unfiled tax returns means you need the help of a tax resolution specialist. Did you even know that not filing legally required tax returns when due is considered a federal misdemeanor which carries with it a $10,000 fine and potential jail time? Generally the IRS don't put taxpayers in jail unless they are deemed to owe a substantial amount of money and are uncooperative about submitting their returns. Still, the penalties for unfiled returns can greatly increase your IRS tax bill. The interest on IRS tax bills, including the penalties, compounds on a daily basis.
The Tax Resolution Institute understands how scary unfiled tax returns and delinquent taxes owed can be for anyone. This is why we have the experience and expertise you need to calm the waters. By contacting the Tax Resolution Institute, you gain access to the professional help and support you need. Please call (818) 704-1443 for a free consultation today. After all, it's time to get a good night's sleep.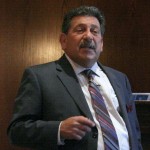 Peter Y. Stephan, executive director of the TaxResolutionInstitute.com, leads the nation's most respected Tax Resolution services firm.
Call 800-401-5926 for immediate assistance.