If you are facing an IRS problem, here are 3 rules that you need to follow in order to achieve a positive tax resolution outcome. Naturally, when you have an IRS problem, working with a tax resolution specialists is always your best option. It never makes sense to go it alone when dealing with the Internal Revenue Service, the biggest collection agency in the world.
Rule 1- Don't Ignore the IRS
Don't make the mistake of ignoring the IRS.  Like the rest of the business world, the IRS has automated their collection system and will catch up with you whether you contact them or not.  To illustrate, you are probably already receiving notices that become more threatening as time goes on.  Each time a new notice is sent, it increases the chance of collection action being taken against you in the form of a tax lien being filed, a bank levy being issued, a wage garnishment being ordered or a 3rd-party levy being issued.  If you choose to address your issue with the IRS before collection action is taken, you will find they can be reasonable.
Rule 2 – Work with a Professional
It does not make sense to tackle your tax problem alone.  Even the Wall Street Journal recommends that if you are facing the IRS with a tax problem you work with a tax resolution professional.  When communicating directly with the IRS, one must understand the entire collection process.  Particularly, what the IRS does and does not consider necessary and reasonable living expenses.  An innocent "mistake" can easily cost you hundreds or even thousands of dollars per month.  If you are forced to speak with an IRS Revenue Officer, you want to tell them as little as possible.  Your goal is to solve this problem as efficiently and effectively as possible.  If you say the wrong thing, you will need to spend additional time and pay a significantly higher amount of money to a qualified professional to "un-ring the bell".
Rule 3 – Treat the IRS with Respect
Talking down to an IRS Revenue Officer is a foolish thing for anyone to do.  After all, you want this person to offer you a reasonable solution and making them an enemy will not help.  When someone is scared and under pressure, they tend to respond in an angry tone.  A qualified professional will know when the IRS is being reasonable and when it's time to appeal to a higher level.
The Tax Resolution Institute has spent over 25 years negotiating with IRS and continues to receive outstanding results.  It helps having formed long-standing relationships with IRS representatives from several departments throughout the agency.  We know how the process works so we can obtain a great result in an effective and economical manner. We never recommend that a taxpayer negotiate or even discuss their matter with the IRS directly, but if you are forced to do so be sure to remember these rules.
Otherwise contact the team you can trust to not only resolve your past tax issues but get you on a path to fix things going forward.  To learn more contact the Tax Resolution Institute by calling (818) 704-1443 or emailing us at info@taxresolutioninstitute.com today.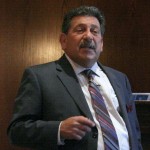 Peter Y. Stephan, executive director of the TaxResolutionInstitute.com, leads the nation's most respected Tax Resolution services firm.
Call 800-401-5926 for immediate assistance.