Part 2 of 3
When it comes to discharging tax debt through personal bankruptcy, the Internal Revenue Service is very specific about which type of back taxes may be discharged.  In October 2005, Congress enacted the Consumer Bankruptcy Law.  Referred to as the "new bankruptcy law", the updated rules make it more difficult for taxpayers to file bankruptcy under Chapter 7 and to discharge tax debt.  If they qualify, taxpayers need to know when they may discharge tax debt through a personal bankruptcy as the rules are very specific.
Discharging Tax Debt Rules Explained
The discharging tax debt rules for federal income taxes in Chapter 7 bankruptcy apply only if all of the following conditions are met:
The taxes being discharged are income taxes. Payroll taxes may not be discharged in bankruptcy.
The taxpayer did not commit fraud or willful evasion.  If a taxpayer filed a fraudulent tax return or otherwise willfully attempted to evade paying taxes, bankruptcy is not an option.
The tax debt is at least three years old.  To discharge tax debt on a timely filed return, e at least three years must have passed from the due date of the return (not the filing date) including extensions.
A tax return must have been filed.  A taxpayer must have filed a tax return, and at least two years must have passed since the date of assessment in order to file for bankruptcy relating to delinquent tax returns.  If the IRS assesses tax prior to the filing of a late return, the amount/s assessed may not be dischargeable.  While most courts will not allow the taxes to be discharged others have broken rank and allowed the taxed to be discharged.
The tax assessed meets the 240-day rule.  At least 240 days must have passed since taxes were assessed stemming from an audit or amended return before they can be discharged in bankruptcy.
The prescribed time requirements above may be extended ("tolled") by certain events including the time an offer in compromise is under consideration, the time someone is out of the country or the time someone was in a prior bankruptcy.  In addition to the time tolled on these events, the IRS tacks on additonal time (i.e."plus 6 months") for some
The Complexity of Discharging Tax Debt
The tax attorneys and tax resolution specialists at the Tax Resolution Institute have extensive experience discharging tax debt through Chapter 7 personal bankruptcy.  This option is not always viable but when it is, it can provide a great deal of relief.  To learn more about how the Tax Resolution Institute can help, call us at (818) 704-1443 or email us at info@taxresolutioninstitute.com.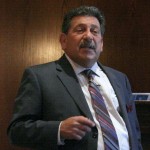 Peter Y. Stephan, executive director of the TaxResolutionInstitute.com, leads the nation's most respected Tax Resolution services firm.
Call 800-401-5926 for immediate assistance.