Are you aware that there are significant consequences for business and individual that do not file income tax returns? The April deadline is right around the corner. Although you may extend the time to file a return, estimated tax owing is expected to be paid by April.   The Internal Revenue Service expects your tax return to be filed and any income tax debts to be paid.  You need to understand that burying your head in the sand and hoping your unfiled income tax returns and IRS delinquent income tax bill problems will go away is unrealistic.
Unfiled Income Tax Returns = A Big Problem
Not filing income tax returns raises a red flag with the IRS.  The Tax Resolution Institute continues to see the shock our clients experience when the IRS catches up with them, often a relatively short period of time after the returns were due. They all believe that they will be the exception to the rule. At some point the IRS will track you down like a predator closing in on their prey. After all, they are the biggest collection agency in the world,
Do you realize that the longer you wait to file, the more serious the consequences become? Even if you do not owe back taxes for prior years, it is still to your advantage to get your tax return filed timely. If you do owe an IRS income tax debt, unfiled income tax returns can lead to a financial nightmare. The interest on unpaid IRS tax debt compounds daily, and the penalties for not filing and paying are severe.
The Financial Danger of not Filing Your Tax Returns…IRS Penalties and Interest
Unfiled income tax returns are a much bigger problem than most people realize. The immediate consequence of not filing a federal income tax return is getting hit hard with penalties and interest. There are two separate penalties that may apply if you owe an IRS income tax debt:
Failure-To-File Penalty
If you do not file an IRS income tax return by the deadline, you are subject to a late filing penalty equal to 5 percent of the total tax due per month. The 5% penalty is not a one-time penalty. The penalty is tacked on each month or partial month you don't file up to 5 months (a potential 25% penalty). That's a significant addition to a substantial tax debt you already cannot afford to pay. You can see why not filing income tax returns can become a serious financial issue.
Failure-To-Pay Penalty
In addition to facing a failure-to-file penalty, a failure-to-pay penalty of 0.5 percent (per month up to 5 months) of the balance owed also applies when IRS tax debts are not paid by their due date. Although this may seem insignificant, when combined with the compounded interest, penalties and interest on the penalties relating to your delinquent tax bill, the amount can add up quickly. As an incentive to negotiate, IRS Revenue Officers have the power to knock the failure to pay penalty down to 0.25 percent for taxpayers who resolve their tax debt through a monthly payment plan known as an installment agreement.
As mentioned above, as an added pain point to make sure taxpayers file on time, the IRS also charges interest on unpaid taxes. The interest is tied to the federal short-term rate, and it's adjusted quarterly. It's not uncommon for the effective rate to exceed 10 percent.
If you are wondering about removing (abating) penalties and interest, in certain circumstances penalties may be abated but unless you can prove you didn't owe the tax, the interest will not go away. Like in most cases there are exceptions to the rule, if you qualify for an Offer In Compromise or partial pay installment agreement, you may end up paying less than you owe effectively eliminated a portion of tax, penalties and interest.
Loss of Refund and Other Lost Tax Benefits
If you do not owe tax and you are due a refund, you will not be penalized for filing a return late.  That being said it is important to realize that there is a three-year statute of limitations on claim a refund based upon a filed return. If you do not file your return within the 3-year period, any money you are due is forfeited to the government.  This includes offsetting liability owed for other years. To illustrate, there is close to a billion dollars in tax refunds stemming from 2012 unfiled tax returns that are about to become unavailable to unfiled taxpayers. Do you really want to "donate" your tax refund to the IRS?
The three-year limit also applies to certain tax credits such as the Earned Income Tax Credit. You cannot retroactively claim the credit in later for years beyond the statute. If you don't file a return, you may lose out.
The Tax Resolution Institute (TRI) Can Help
In part two of this two-part series, We discuss the consequences (both short and long term) of not filing income tax returns. Whether you are looking to file returns to get into compliance so we can negotiate your liability by entering you into an installment agreement or submitting an offer in compromise; or, you need to file returns to receive an overdue tax refund, we are here to help.
Our goal is to make sure our clients are not only protected from collection activity but also receive the tax benefits they are due when applicable. If you have unfiled income tax returns or delinquent income tax debts, please contact the Tax Resolution Institute for help today by calling (818) 704-1443 or emailing us at info@taxresolutioninstitute.com.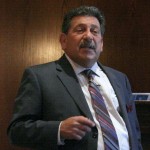 Peter Y. Stephan, executive director of the TaxResolutionInstitute.com, leads the nation's most respected Tax Resolution services firm.
Call 800-401-5926 for immediate assistance.