California Franchise Tax Board special agents arrested a Tarzana man on five counts of filing fraudulent state income tax returns. Nicholas A. Francisco (59), the owner of a check cashing business, allegedly failed to report more than $3.5 million in income on his 2003 – 2007 state income tax returns. At the present time, Francisco owes the state more than $735,000 in unpaid tax, interest, and penalties. The cost of the tax investigation, however, will be added to this amount and sought as restitution. In addition, each tax count carries a maximum sentence of three years in state prison.
By avoiding paying California the taxes due and filing fraudulent returns, Francisco turned a financially difficult situation into a criminal offense. Criminal solutions are never the right answer to serious tax debt challenges. If you have a huge delinquent income tax bill with the California Franchise Tax Board and need help finding tax relief, contact the Tax Resolution Institute for help.
Prosecuted by the Los Angeles County District Attorney's Fraud Interdiction Program, Nicholas Francisco came to the FTB's attention during the investigation of an unrelated criminal case involving a medical doctor who utilized Francisco's check cashing business as part of his medical fraud scheme. Like the IRS, the FTB is a powerful collection agency that will not stop until state taxes are paid in full. California is in financial crisis, and the tax gap is a major reason why. The failure to report income is part of the $6.5 billion tax gap California faces each year. The tax gap is defined as the difference between the tax that is owed and the tax that is paid.
After being booked in Los Angeles, Francisco's bail was set at $737,000. The following week when his case came before a judge, Francisco pleaded not guilty to all five of the counts of filing fraudulent state income tax returns. If convicted on five counts of state income tax fraud, he could serve up to 15 years in prison. The case is the result of a joint investigation between the Los Angeles District Attorney's office and FTB. If you want to keep the District Attorney far away from your finances, never file a fraudulent claim that avoids the payment of your state tax debt. Even if you do not have the funds to cover your tax debt, contact the Tax Resolution Institute, and our tax experts will find a workable solution for you. By negotiating an Offer in Compromise or an Installment Agreement with the California Franchise Tax Board, TRI can provide you with state tax relief.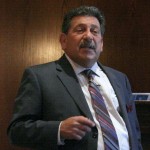 Peter Y. Stephan, executive director of the TaxResolutionInstitute.com, leads the nation's most respected Tax Resolution services firm.
Call 800-401-5926 for immediate assistance.