When California business owners fail to make their employment tax deposits, IRS penalties are severe and can be deadly for a business. There is a reason why the Trust Fund Recovery Penalty is known as the 100% penalty. What California Business Owners need to know right away about employment tax deposits is the light that has been lit under IRS Revenue Officers to increase enforcement of the Trust Fund Recovery Penalty. As reported on by the Tax Resolution Institute last week,  a new report from the Treasury Inspector General for Tax Administration criticized IRS's penalty actions against employers who fail to make employment tax deposits as being neither timely nor adequate.
Employment Tax Deposits And The IRS
The IRS refers to employment tax deposits as the trust fund because business owners are trusted by the government to deposit the tax portion of the paychecks of their employees. This money is held in trust and must be deposited on a monthly basis by the employers. If a business owner fails to make these deposits, the IRS views this action as a form of theft from the Federal government. As a California business owner, if you violate the trust of the IRS by failing to make your employment tax deposits, they will come after you.
The Treasury Inspector General's Call To Action
The Tax Resolution Institute has never seen anything that compares with the Treasury Inspector General of Tax Administration's call the action. By placing IRS Revenue Officers on the spot, the Treasury Inspector General is amping the issue of a failure to make employment tax deposits to the next degree of severity. The tax resolution specialists at TRI have seen too many successful California business owners driven out of business by Trust Fund Recovery Penalty actions. If you have failed to make your employment tax deposits and you have payroll tax problems, please make the smart move and take action today. With the new call to action, the negative consequences for your business and your future could be extreme.
Contact The Tax Resolution Institute For Help
The Tax Resolution Institute hates to see California Business Owners in trouble because they have failed to make their employment tax deposits. In the vast majority of cases, this is not a criminal act, but a mistake made on account of a misunderstanding or problematic financial decision. What is most important is not allow such a decision to derail years of hard work and put your company in jeopardy. With the new call to action, there is no time to fiddle away and twiddle your thumbs. Whistling as you work and pretending nothing is going to happen is a grave mistake. Instead, make the right choice and contact the tax resolution experts at the Tax Resolution Institute by calling 800.401.5926 for a free consultation.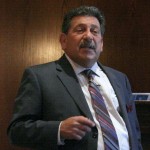 Peter Y. Stephan, executive director of the TaxResolutionInstitute.com, leads the nation's most respected Tax Resolution services firm.
Call 800-401-5926 for immediate assistance.