Questions about bankruptcy & income tax debt are more common that you can imagine. Many people have found themselves in financial trouble, particularly after the recent recession. The Tax Resolution Institute is not surprised that such financial trouble goes hand-in-hand with questions about bankruptcy & income tax debt. If you are considering filing for bankruptcy or even if the option is on the table, knowing whether or not you can discharge your IRS income tax debt is a big question to answer.
Bankruptcy & Income Tax Debt
Although bankruptcy often can be a viable solution to help people deal with credit card debt and medical bills, it also can help with income tax problems in certain cases. It is important to understand is that bankruptcy & income tax debt are not always a workable partnership. It's not uncommon for clients of the Tax Resolution Institute to ask about bankruptcy and whether or not it can do away with their income tax debt. After all, people in financial trouble often have not had the resources to pay their income taxes.
3 Common Questions
About Bankruptcy & Income Tax Debt
1) Can Bankruptcy Discharge My IRS Income Tax Debt?
Discharging IRS income tax debt in a bankruptcy depends upon your unique situation and whether or not your income tax debt qualifies.  If you file a Chapter 13 bankruptcy, tax debts are repaid in a structured payment plan and may not qualify.  In a Chapter 7 bankruptcy filing, the tax debt in question needs to meet the following conditions to be discharged:
The tax debt was assessed 240 days before the bankruptcy filing
The tax debt in question is composed of income taxes that are at least 3 years old
You filed tax returns for the past 2 years before filing for bankruptcy
No tax fraud or tax evasion has been committed by the taxpayer
2) Does a bankruptcy remove an IRS tax lien?
When it comes to bankruptcy & income tax debt, Chapter 13 can help remove tax liens under a repayment structure.  Once you successfully pay the amount described in the plan, the IRS tax lien can be removed.  In contrast, removing a lien under a Chapter 7 bankruptcy can be more challenging without a solution to settle the tax debt that instigated the lien. Without such a solution, the lien will remain in place until the tax is discharged in a bankruptcy that meets the above qualifications or a tax resolution settlement is made with the IRS Revenue Officer assigned to the case
3) What if I don't qualify to have my tax debt discharged in Chapter 7?
A Chapter 13 bankruptcy may allow you to make payments based on your ability to pay. The IRS also offers different solutions to help settle your debt including Offer in Compromise and a Partial Pay Installment Agreements. The best option is you are considering a connection between bankruptcy & income tax debt is to contact a tax resolution professional.
With experienced tax attorneys, bankruptcy attorneys and CPAs on staff, the Tax Resolution Institute has the resources you need to deal with a question about bankruptcy & income tax debt. To learn more and to access a free consultation, please call the Tax Resolution Institute today at (818) 704-1443.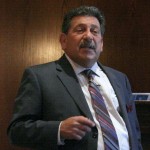 Peter Y. Stephan, executive director of the TaxResolutionInstitute.com, leads the nation's most respected Tax Resolution services firm.
Call 800-401-5926 for immediate assistance.