Thanks to a bill passed by Congress in 2015, the rules relating to how the IRS may audit taxpayers have been significantly expanded. The basic rule has long been that for most cases, the IRS has up to three years to audit a tax return after the filing date.  Like EVERYTHING else, there are exceptions to this rule.  The most common exceptions involve cases where a taxpayer failed to include more than 25 percent of their income.  In these cases (defined as "tax evasion"), the IRS is allowed up to six years to perform an audit.
Congress wielded more power to the IRS when it overruled the Supreme Court's ruling that "overstating your tax basis" is different from omitting income. The IRS can now audit you if they believe you are overstating your tax-deductible losses.  A very red flag governing a broad spectrum of issues, this new rule is one of may good reason to contact a professional if you have concerns about additional tax assessments or other delinquent income tax debt relating to prior returns.
Rules for Auditing Taxpayers Expanded
In the Surface Transportation and Veterans Health Care Choice Improvement Act of 2015 (AKA H.R. 3236), Congress changed the tax code to state: "An understatement of gross income by reason of an overstatement of unrecovered cost or other basis is an omission from gross income."  We understand that this is a mouthful so to put it simply, if you use overstated losses to reduce your tax burden, you may be placed squarely in the IRS cross-hairs.
It's important to note that these legal changes not only apply to older tax returns that are still considered open. The new rule also applies to all tax returns that are filed after July 31 of 2015.  In addition, if you have unfiled tax returns you could be in trouble.
No Auditing Time Limit For Unfiled Tax Returns
Auditing taxpayers becomes a never-ending option for the IRS when the tax returns remain unfiled.  If a tax return has never been filed, the IRS now has no time limit to perform an audit.  While most cases involving criminal or civil tax offenses allow the IRS six years to perform an audit, there are some instances such as fraud where the IRS has no limit. Another example includes leaving out certain tax forms.  In some of these cases the IRS can come back to get you by conducting an audit at any time.  The IRS is also interested in hunting down and putting a stop to anyone who tries to hide money in foreign bank accounts.  The new rules also give the IRS six years to audit a return if more than $5,000 in foreign income has been omitted.
Audits Lead To Tax Resolution Problems
The bottom line when it comes to tax returns and being audited is to keep everything.  While you may never be in a position to worry about the six-year limit, it never hurts to hold onto a few extra documents for a few more years. Especially with the age if scanning and paperless offices.  If you have unfiled tax returns, the IRS could come knocking long past what would otherwise be the expiration date and you best be ready to answer.  Or better yet, enlist the Tax Resolution Institute to help. If you need information about the IRS auditing taxpayers or tax resolution help, please contact us by calling (818) 704-1443 or emailing us at info@taxresolutioninstitute.com.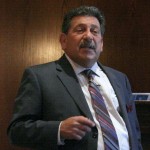 Peter Y. Stephan, executive director of the TaxResolutionInstitute.com, leads the nation's most respected Tax Resolution services firm.
Call 800-401-5926 for immediate assistance.