2015 FBAR filings are more of a necessity than ever before. On March 18, 2015, Belarus signed the FATCA agreement, hosting a signing ceremony with the United States at the Belarusian Foreign ministry. The international tax team at the Tax Resolution Institute points out that resistance by the Easter European countries to the U.S. Foreign Account Tax Compliance Act (FATCA) is evaporating as more and more former Warsaw Bloc states come on board. Given the change with these international FATCA resistant zones vanishing, 2015 FBAR filings with the IRS have become a necessity to avoid penalties.
2015 FBAR Filings A Necessity
Following Hungary, Latvia, the Czech Republic, Slovakia, Romania and many more, Eastern European countries have been falling like dominos and embracing the reality of FATCA. Although Russia has been slow to agree to the entire breadth of the agreement, they have agreed in principle to most of they key points.  Eastern Europe was considered the last bastion of FATCA resistance in the modern international banking world, but the resistance is fading fast. As a result, 2015 FBAR filings must be completed as soon as possible.
On behalf of the Government of the Republic of Belarus, the FATCA Agreement was signed by the Minister of Taxes and Duties Sergei Nalivaiko. On behalf of the government of the United States of America, Scott Rauland, the Chargé d'Affaires of the United States in Belarus, signed the FATCA Agreement. FATCA agreements are being signed as a normative part of everyday diplomacy. This is why 2015 FBAR Filings are so important. It's no longer newsworthy for new countries to agree to the FATCA agreement.
FBAR Tax Consultants Ready To Help
Rather than being covered by the networks and city papers like previous signings by Eastern bloc countries, news of the signing was obscure at best. The FBAR tax consultants at The Tax Resolution Institute want to highlight this shift to let American taxpayers with international accounts know it's time to take action. By delaying your FBAR filing, you are only making a bad tax problem even worse.
To learn more 2015 FBAR filings for international accounts, please call Andrew Gantman and the International Tax Team at the Tax Resolution Institute at 800.704-1443.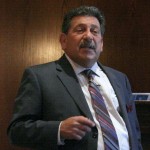 Peter Y. Stephan, executive director of the TaxResolutionInstitute.com, leads the nation's most respected Tax Resolution services firm.
Call 800-401-5926 for immediate assistance.