This is an introduction by the Tax Resolution Institute to Tax Resolution Services Complaints and our frustration with the second-rate and even criminal services provided by our competition. Tax Resolution Services Complaints  is a major search term on Google and these complaints by American taxpayers against tax resolution services companies can be found on complaint sites across the Internet. These negative review sites with Tax Resolution Services Reviews and Tax Resolution Services Complaints include the classic examples like the The Complaints Board and The Rip-Off Report to the more recent additions like My 3 Cents and The Pissed Consumer. Of course, the founding father of these excellent review sources remains the Better Business Bureau.
With a sterling reputation as the gold standard of the tax resolution services business, the Tax Resolution Institute is proud to be able to state that there is not a single complaint regarding our tax resolution services on any of these review sites. To prove this claim, we have provided you with the above links to all of these sites. Take the time and check out our record for yourself. After all, our word is our bond, and once we enter into a tax resolution contract with a client, we follow through until your case is resolved with both the IRS and, if necessary, the State taxing authorities as well like the California Franchise Tax Board. Although we cannot help everybody, if your tax problem is within the guidelines of what we offer, we will do our best to help you and offer specific options for real tax resolution services.
In addition, the Tax Resolution Institute has a golden record with our business clients as well, providing excellent tax resolution services when it comes to IRS payroll tax problems, helping to keep the doors of your business open.  The focus of our tax resolution services is to protect your financial security and future viability. If we can help you maintain productivity and increase profitability, then we have help to  transform a payroll tax debt nightmare into a minor payroll tax debt headache. Once again, although we cannot work miracles and help every company with payroll tax problems, we will analyze your case and figure out specifically if we can help you. The Tax Resolution Institute does not take on a case unless we know that we can find a workable solution for you.
Despite our mission statements and sterling record, we consistently see that our tax resolution clients are scared when they enter our offices or speak with us over the phone in the beginning. With so many second-rate operators ripping off honest taxpayers in times of crisis, it is no wonder that American business owners and American consumers have become wary when it comes to choosing a tax resolution services company to help them.  In contrast, we are proud of our tax resolution record and the excellent tax relief services that we provide at the Tax Resolution Institute.
If you need tax resolution services, check out our sterling record of excellence for yourself. In addition, read the Success Stories section on our website where actual clients explain how the Tax Resolution Institute helped them resolve serious tax problems. Most importantly, do not let tax complaints against second-rate firms stop you from taking action. When it comes to a tax crisis, the worst thing you can do is get stuck and do nothing. Contact the Tax Resolution Institute today and start the process of real and effective tax resolution.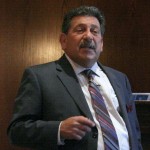 Peter Y. Stephan, executive director of the TaxResolutionInstitute.com, leads the nation's most respected Tax Resolution services firm.
Call 800-401-5926 for immediate assistance.