Whether you live in Newport Beach, Irvine or anywhere else in Orange County and you need an IRS Offer In Compromise of a Bank Levy Release, please contact TRI – The Tax Resolution Institute – for quality tax resolution services. With IRS income tax season upon us and the IRS cracking down on delinquent tax debts, it is no surprise that so many taxpayers in Southern California and Orange County in particular are finding themselves with serious back taxes owed and IRS problems. The Tax Resolution understands the stress and fear that you are experiencing right now, particularly if the threat of a bank levy is hanging over your head and we have the experience and the expertise to help with a bank levy release . But let's be perfectly realistic — in order to achieve a successful IRS Offer In Compromise, you need a tax resolution expert with proven experience and respected expertise.
IRS Offer In Compromise,  Not IRS Criminal
Excuse a momentary lapse into unprofessional language, but you need to hear this clearly and with confidence. Let's toss the bullshit of Orange County taxpayers with delinquent income tax problems being seen as criminals trying to steal from the government. This simply is not the case and over 90% of back income taxes are owed not because there is even an ounce of criminality involved. The vast majority of recent IRS tax problems and FTB state tax problems with the California Franchise Tax Board have been caused by the devastating impact of almost a decade of an economy in recession and the resulting economic difficulties and financial hardships. The Tax Resolution Institute believes this perspective implicitly so the last thing we would ever imagine doing is judging a potential client. The only reason we are here is to help you get a good night's sleep again by restoring your financial security and helping you to guarantee the future safety of your family with a bank levy release, successful IRS Offer In Compromise or other tax resolution services..
It is true that an IRS Offer in Compromise is a valuable tool  to resolve a delinquent tax problem, but it is only one tool of many available. This is exactly why you need tax resolution expert in your corner. By having experience with the IRS Revenue Officers assigned to Orange County, whether you live in Newport Beach or Huntington Beach, Fountain Valley or Irvine, the tax experts at the Tax Resolution Institute know whether an IRS Offer In Compromise makes sense in your case. We have a history of clients who found tax relief with a successful IRS Offer in Compromise, Bank Levy Release or tons of different potential outcomes.
IRS Offer In Compromise As Tax Resolution Outcome
What is important to realize is that we are not going to promise you an IRS Offer In Compromise if it is a tax resolution outcome that we are not convinced is the most viable option. Our goal is not to toss around promises and con you out of your precious resources. Our goal is to provide you with the effective resolution outcome that we discuss during your free consultation and after we have examined the intrinsic details of your case. Any company in the tax resolution industry that offers you an IRS Offer In Compromise right off the bat and even over the phone is questionable at best to say the least.
If we believe in an IRS Offer In Compromise is the best option for you, that is what we will recommend. Once we take you on as a tax resolution client, we promise to employ our experience and expertise to achieve the viable option that we present to you as part of our tax resolution services. Ultimately, it really is not about us showing up and doing our jobs. We have a proven track record of doing just that for countless years. So what is it about?
IRS Offer In Compromise, Not Ostrich In The Sand
To be blunt, if you are an Orange County taxpayer with a delinquent IRS tax debt hanging over your head, it is about taking action. Sticking your head in the sand like an ostrich and hoping IRS collection actions by the IRS Revenue Officers will just go away is not only foolhardy, but dangerous as well. As the largest collection agency in the world, the IRS does not make exceptions and they do not not want to hear your story. They simply want to be paid and move forward. The reason Revenue Officers are willing to accept IRS Offers In Compromise is because they have a log of back tax cases to close. The only way your delinquent income tax case can be resolved is by taking the first step. Please call the Tax Resolution Institute at 818-704-1443 and begin moving in the direction of financial security and restful nights.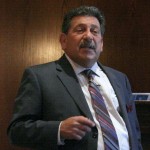 Peter Y. Stephan, executive director of the TaxResolutionInstitute.com, leads the nation's most respected Tax Resolution services firm.
Call 800-401-5926 for immediate assistance.